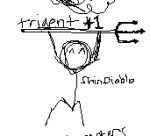 Shin
is a banned member of the Tales forums. He had multiple usernames over the course of his lifetime on the Tales forums, including
ZelosX
,
AlucardX
, and
Harith the Fallen
. Later, he discovered an account that was older than his current, and he began using it anew. This account, then
KalasX
, almost immediately got a name change to Shin.
He had many epic battles with MoogleEXE. He was banned on the same day as he and came back with many alternate accounts that he shared with Someguy. Shin currently holds the record for most alternate accounts.
He despises users he considers immature.
Shin frequented the Music forum, General Discussion, the Boarding House (prior to its abolition), and, for a time, the Signatures and Avatars forum.
Musical Interests
Edit
Instruments
Edit
Shin plays the electric guitar, electric keyboard, harmonica, and flute.
Shin enjoys many different types of rock and hip-hop music. Examples of artists and groups he likes include:
AC/DC
Aerosmith
AFI
Alice in Chains
Avenged Sevenfold
Bad Brains
The Beatles
Beck
Billy Idol
Black Sabbath
Blind Melon
Blue Oyster Cult
Bob Dylan
Boston
The Brain Jonestown Massacre
Bright Eyes
Celtic Frost
Coheed and Cambria
Counting Crows
Crosby, Stills, Nash, and Young
The Darkness
David Bowie
Dead Kennedys
Death From Above 1979
The Decemberists
Deep Purple
Don McLean
Dragonforce
Dream Theater
Electric Wizard
Frost*
Fugazi
Genesis
Gerry Rafferty
Gojira
Grateful Dead
Guns N' Roses
Hammerfall
Helloween
Horse the Band
Iced Earth
Incubus
Iron Maiden
Jethro Tull
Jimmy Eat World
Judas Priest
Kansas
King Crimson
Kings of Leon
King's X
Led Zeppelin
Lostprophets
Lynyrd Skynyrd
Magma
Marillion
Massive Attack
The Medic Droid
Metallica
Michael Jackson
Mickey Avalon
Minor Threat
Motley Crue
Mr. Mister
Niel Young
Nine Inch Nails
Oasis
Operation Ivy
Opeth
Pain of Salvation
Pearl Jam
Pink Floyd
Pixies
The Police
Porcupine Tree
Prince
Queen
Queensrÿche
The Raconteurs
Radiohead
Rage Against the Machine
Red Hot Chili Peppers
Rise Against
Rites of Spring
The Rolling Stones
Rush
Scorpions
Slayer
The Smashing Pumpkins
Snoop Dogg
Soft Cell
Sonic Youth
Soundgarden
Spock's Beard
Steve Miller Band
Styx
Sublime
Supertramp
Symphony X
Tenacious D
Third Eye Blind
Transatlantic
Trans-Siberian Orchestra
U2
Van Halen
Velvet Revolver
The Velvet Underground
The Verve
Violent Femmes
The Who
Wolfmother
Yes