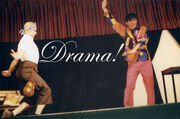 eDrama is the online equivalent to real-life drama (Any situation or series of events having vivid, emotional, conflicting, or striking interest or results, Dictionary.com unabridged). It is applied to real online conflicts and events as much as fake or parody events.
Famous Incidents of ToSF eDrama
Edit
This article is a stub. You can help the Namco Tales forums wiki by expanding it.